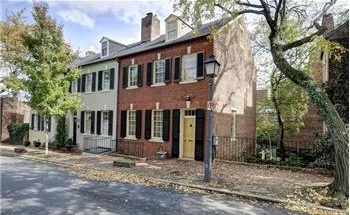 For City Home owners, restoring the unique architectural features of brownstones, row houses, and town houses is a painstaking labor of love. Finding the right insurance for these multi-storied, historic masonry buildings, however, can be just as painstaking.
Insuring city home requires an appreciation of their historical significance and an understanding of their contemporary value. But not all insurance companies - even those that claim to specialize in city homes - can offer...
... the kind of coverage available from Chubb.
Compare your current policy with what Chubb has to offer. You may find that, as the premier insurer of fine homes, Chubbs unique City Home policy provides more of the protection and coverage you need as a city homeowner. When you insure your city home with a Masterpiece policy from Chubb, you're getting our finest policy.
Masterpiece City Home Coverage Is as Unique as Your Home
From what may be considered the finest service and protection available, Chubb offers the Masterpiece City Home policy, custom-tailored to your personal insurance needs. While you might be able to find a policy that includes some of its features, our Masterpiece City Home policy automatically includes all of the following important coverages:
| | |
| --- | --- |
| Extended Replacement Cost | |
| Additional Living Expenses | |
| | |
| | Your Choice of Contractor |
| | |
Chubb Home Appraisals
Some insurance companies never see the homes they insure until they have to inspect damage. But Chubb recognizes the distinctiveness of each home, so Chubb appraisers visit the homes Chub insures. This complimentary service provides a valuable record of your city home's architectural details, inside and out, and captures the features that make your home unique. This helps Chubb and homeowners agree on values, so if there is ever a loss, the claim will have been settled in advance. it's part of the Chubb tradition to provide a fair, accurate, and speedy settlement.
Chubb's History of Protection
For over a century, unparalleled service and the highest-quality protection have been the hallmarks of theChubb Group of insurance Companies. Known for its swift and equitable handling of claims,Chubb is a leading provider of personal insurance - the choice of those with possessions of significant value. Chubb is proud to receive consistently high rates from A/M/ best for claim paying ability, which is testimony to Chubb's financial strength.
The Masterpiece City Home policy is a reflection of the high caliber of service and unique expertise you can expect from Chubb.
If you'd like more information about insuring your city home with Chubb please contact Clarke & Sampson Inc. at (703) 683-6601 or click below!