Whether you are purchasing coverage for the first time or reevaluating coverage that has been in place for years, every homeowner should understand what "replacement cost" means relative to homeowners insurance. To start, here is a simple definition:
The replacement cost of a home is the cost to rebuild that home exactly as it is now, in its current location, with like kind and quality of materials, in the event of a total loss.
It is important to note that the replacement cost of your home is neither the market value of your home nor the tax appraised value of your home. The replacement cost, market value, and tax appraised value are separate and unrelated figures.

How the replacement cost figure is determined
Insurance companies rely on third parties that specialize in building construction information. These groups monitor costs of demolition, disposal, materials, and labor at various locations. That cost information is then paired with building characteristics such as square footage, construction type, date of construction, foundation type, style, and other special features to determine a home's replacement cost.
Here's an example of data collected on the rising cost of building materials between 2012 and 2013, which is applied to home replacement calculations: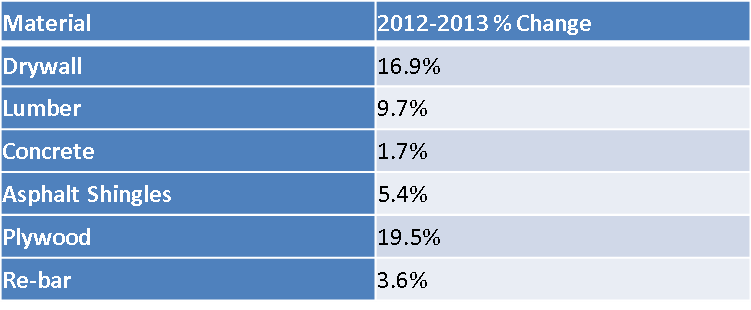 Additional Costs of Rebuilding

Rebuilding a home is almost always more expensive than rebuilding a comparable new one. For example, new construction starts with a flat, cleared lot. Reconstruction starts with unsalvageable strutural remains and debris. Relative to new construction, it's often more difficult to obtain permits, store equipment, and access the lot on a rebuild. Additionally, builders usually can't buy supplies at volume discounts when working on the rebuild of a single home.
Historic properties
Historic properties are typically more expensive to replace than the average home. This is a result of unique materials, special workmanship, and local ordinances. These concerns are particularly applicable to homes located in the Old Town Alexandria area.
Determining the replacement cost of your home can be complicated. A simple mistake could result in an unnecessarily high coverage limit; it could also result in a shortage of coverage when you need it most. When pursuing new coverage, or reevaluating your existing coverage, be sure to consult an agent. Review the replacement cost estimate together to confirm the inputs and overall accuracy. You can't predict a loss, but you can prepare for one.