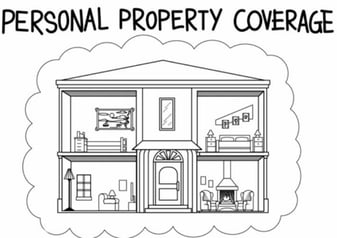 Personal property is a complicated matter. View our latest blog and learn the key facts about insuring your personal property.
Defining Personal Property
Personal property is defined as moveable property and belongings exclusive of land and buildings. Real property is land and most things attached to the land such as buildings, detached garages, and fences. To understand exactly what personal property is pretend that you're holding your house in your hand. Take the roof off of your house, and turn your house upside down. Everything that falls out of the house is considered personal property. Your couches, chairs, tables, TVs, books, arts, watches, glasses, video games, stuffed animals, guns, diamonds, gold, and just about everything else is considered personal property.
How Is Your Personal Property Covered?
Personal property can be insured under a homeowners, condo, or renter's insurance policy. Are you unsure what type of policy is most appropriate given your situation? Be sure to discuss and review and an insurance agent.
Replacement Cost & Actual Cash Value
There are various types of valuation methods by which an insurance provider may calculate the amount payable after a loss. The two most commonly used valuation methods are replacement cost and actual cash value. When available, replacement cost is always the preferred valuation type.
Replacement cost is the actual cost to repair or replace with material of like kind and quality at today's prices with no depreciation.
Actual cash value is the actual cost to repair or replace the damaged property with material of like kind and quality at today's price minus depreciation. In other words, actual cash value is replacement cost minus depreciation.
Sub-Limits for your Personal Property
Be aware that certain types of personal property may be subject to special limits under a home, condo, or renter's insurance policy. Although sub-limits vary from company to company, here are a few examples:
$1,000 on money, bank notes, bullion, and gold
$5,000 on securities, accounts, deeds, passports, tickets, and stamps
$1,500 on watercraft
$1,500 for jewelry by theft or misplacement
$2,5000 for firearms
And more
Insuring Valuables
If you own pieces of art work, wine, jewelry, gold, collectibles, guns or other valuables, you may choose to obtain scheduled or blanketed valuables coverage for those items. To learn more about insuring your valuables, be sure to read our Insuring Valuables blog!
Questions?
If you have any questions about your personal property and how to protect it better give Clarke & Sampson, Inc. a call at 703.683.6601 and we'll guide you in the right direction!