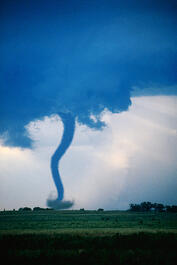 Tornadoes can be one of nature's most violent storms and have the potential to cause serious damage to a community and its infrastructure no matter the reported danger level. Last week on Wednesday October 15th the Washington D.C. Metro area experienced two tornadoes touching down, with one happening right in Alexandria. Tornado warnings were issued promptly in surrounding areas when winds and rain picked up to severe levels. The first touch down was reported around lunch time in Belle Haven – about an hour later a second tornado reportedly touched down near Savage, MD. Fortunately, both occurrences resulted in little to minor damage; however it was unusual for a tornado, let alone two in the same day, to even be an issue in our region around this time of the year. These recent events have shown that even out of prime "tornado season" people should be wary of the possibility of a tornado striking. What is most likely causing out of season tornadoes such as these are shifts in weather patterns potentially due to climate change. The most important thing you can do to be prepared for facing the danger of tornadoes is to plan extensively what to do before, during, and after a tornado hits. Here are some pertinent tornado safety recommendations for you and your family:
Before a Tornado Strikes
Create a family tornado plan that includes where you will seek shelter when a tornado warning is given and where you will meet after the disaster in case you get separated. Practice your family's tornado plan at least once per year.
Gather items that can protect you such as mattresses, sleeping bags and thick blankets and place them near your shelter area.
When the National Weather Service issues a tornado watch, go to your shelter area and check to see that everything you need for protection is there.
Gather bottled water, non-perishable food items, flashlights and a battery-operated radio.
Keep an ear to the radio or television and listen for storm status updates, and stay alert for warnings.
Signs of an Impending Tornado
In addition to listening to weather reports, the following signs may indicate that a tornado may be near:
Strong, persistent rotations at a cloud's base
Whirling dust or debris
Hail or heavy rain, followed by a dead calm or intense wind shift
Loud rumbles of noise that do not fade away in seconds
During a Tornado
Go to the basement or lowest level of your home, get under a sturdy structure, such as a table, and then cover yourself with protective materials. If your home does not have a basement, go to a small, central space such as a bathroom, a closet, a space under a stairwell or a hallway with no windows. Then, crouch down to the floor face down and cover your head with your hands.
If you live in a mobile home, leave your house and seek other shelter. If there is nowhere else to go, lie flat on the ground and cover your head with your hands.
Stay safe after the tornado hits by doing the following:
Stay with your loved ones until emergency personnel arrive.
Stay away from power lines and puddles near fallen wires since they may still be carrying electricity.
Watch your step for broken glass, nails and other sharp objects that may have flown around.
Do not enter heavily damaged homes or buildings that could collapse at any time.
In addition to insuring your home, ensuring your safety and preventing losses are also top concerns. If you would like more loss prevention or safety tips, please click on the button below or call us at (703)683-6601.