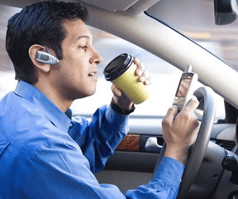 Distracted driving is a serious and deadly problem—approximately 3,000 people lose their lives every year due to distracted drivers. Drivers can become distracted for many reasons—because they are eating, talking to passengers or even listening to the radio at a high volume. However, the most prevalent way drivers become distracted is by using cellphones on the road.
Because of this, using has become extremely popular. According to the National Safety Council (NSC), 80 percent of drivers believe that using hands-free accessories for their cellphones will make them safer drivers. However, the NSC also found that using a hands-free device is just as dangerous as using a hands-on device.
While driving, your complete attention should be on the road at all times. Refrain from eating in your vehicle, and ensure that your music does not prevent you from hearing and comprehending the environment around you. More importantly, you should never use your cellphone while driving, even if you have a hands-free device—pull to the side of the road if its use is absolutely necessary.
Distracted driving greatly increases a drivers' chances of causing unwanted accidents, and also poses a threat to your auto insurance premium. All types of traffic violations have the potential to impact your auto insurance rates. Generally, the type and severity of the violation will determine exactly how your premiums are affected. Here are some examples of incidents that could impact your rates:
Speeding

Failure to use a seat belt

DUI convictions

Illegal use of a cellphone

Running a stoplight or stop-sign
Of course, the easiest way to keep your premiums low is to obey all traffic laws and stay safe on the road. Contact your Clarke & Sampson, Inc. representative today with any questions you have about auto insurance. You can reach one of our representatives at (703) 683-6601, or click the button below.