Do you live in a low-lying area of Fairfax County? Perhaps you have family that does? We have good news to share that can help keep you and your loved ones safe. Fairfax County has launched a new emergency alert system to warn residents of flood threats.
The system will be monitored by the Department of Public Works and Environmental Services for the possibility of flooding. If the conditions suggest there is risk of flooding, a notification will go out via the Community Emergency Alert System (CEAN) to residents that have enrolled in the alert system. The alerts can go out in the form of a reverse 911 phone call, blog, email, text message, or other wireless devices.
You can register for the alerts here: https://www.fairfaxcounty.gov/cean/
Neighborhoods such as New Alexandria, Belle View, and Huntington are situated in a high risk flood zone. The Huntington area is primarily affected by rainfall and flood events on Cameron Run while Belle View and New Alexandria are primarily affected by tidal surges on the Potomac River. Floods can occur at any time, and is the most common and most costly natural disaster in the United States. For some perspective, here's an image from Fairfax County (with text overlay) highlighting the flooding that occurred in New Alexandria and Belle View as a result of Hurricane Isabel.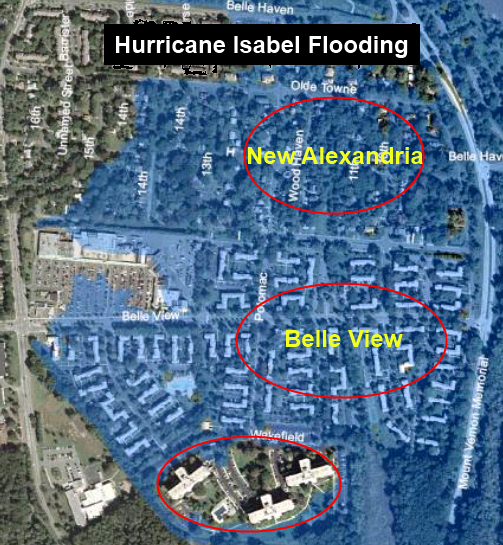 Signing up for the emergency alert system is just one of the many things you can do to prepare. Here are some additional recommendations from Fairfax County to prepare for a flood:
- Know how to shut off electricity and gas to your home
- Make a list of emergency phone numbers and identify a safe place to go
- Make an inventory of your household items, especially basement contents
- Put insurance policies, valuable papers, and medicines in a safe place (Remember a standard homeowners policy does not provide coverage for flooding. You need a seperate flood insurance policy to protect yourself from a flood event)
- Put cleaning supplies, a camera, and waterproof boots in a handy place
- Develop a family flood response plan