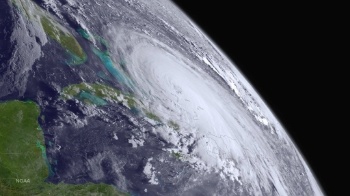 Hurricanes threaten the east coast with torrential downpours, hurricane force winds, and large amounts of coastal flooding every year. During hurricane season everyone is at risk of a flood. Alexandria has seen, and will continue to see hurricanes bring unpredictable high waters to the area.
Alexandria Flooding History
Floods are not uncommon for the city of Alexandria. Flooding within the city of Alexandria in recent history were recorded in 1972, 1983, 1996, 2003, and 2006. Two floods in 1996 significantly impacted Alexandria's waterfront. The January 1996 flood was due to a heavy snowfall followed by a period of rain and warm temperatures. In September 1996, hurricane Fran caused flooding along the Potomac River and evacuations of properties in Old Town Alexandria were necessary.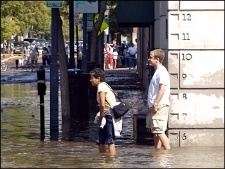 The most significant recent flood event was due to tidal flooding occurring during Hurricane Isabel. Hurricane Isabel, which occurred in September 2003, made landfall on the North Carolina coast. Isabel weakened to a tropical storm in Virginia. However, the storm's 40-60 mile-per-hour sustained winds pushed a bulge of water up the Chesapeake Bay and ultimately up the Potomac River. In Alexandria the water level in Old Town reached 8.8 feet above normal height. Even though Isabel never directly hit Alexandria, the city was severely impacted.
Everyone is Susceptible to a Flood
If your residence or business is located anywhere near the following locations, you should be prepared to see high waters in times of heavy rain, large snow melts, and tidal flooding from hurricanes:
Backlick Run, Cameron Run, Four Mile Run, Holmes Run, Hooffs Run, South Lucky Run, Old Cameron Run, Potomac River, Strawberry Run, Taylor Run, and Timber Branch.
The highest recorded flow of water recorded in Alexandria occurred in 2006. The height at Four Mile Run was 20.20 feet above normal height with a stream flow of 18,100 cubic feet per second (FEMA 2011 Study). If you need help picturing how much water that is; imagine 134,000 gallons of water passing you at once per second for hours or even days. Needless to say that is a lot of extra water your area may not be prepared for.
Each hurricane season that comes and goes homeowners hold their breath for the best. Alexandria has been spared on many occasions, but it's only a matter of time until mother nature creates a bad situation again. Everyone needs to know that regardless of where you live, everyone is susceptible to flooding. Is your house, business, and your belongings covered to the fullest?
Average home owners insurance only covers certain perils, and flooding isn't one of them. If you live in a flood zone area and don't have flood insurance, now is the time to invest in protecting your property. Even if you don't live in a flood zone area, living next to one can be just as dangerous. Remember, Everyone is at risk to flooding. Not being prepared is preparing to fail!
Give Clarke & Sampson a call at (703) 683-6601 so we can help you determined what coverage will protect you the most in the area that you live in. Discover what options are avaliable to you through one of our represented agencies and get a quote today.