Thermal imaging has become a hot topic amongst homeowners. Originally developed to identify enemy soldiers at night, thermal imaging is now used in everything from medical applications to building construction. The technology is catching the attention of homeowners because it provides valuable information on three major concerns of homeowners: heating and cooling efficiency, water damage and mold, and unwanted guests such as termites and rodents.
Example #1 An ice maker in an upstairs game room had developed a slow leak. Thermal imaging identified the leak before there was any visible sign of damage, and before mold was able to develop.

Example #2 Unwanted guests found in the walls of a home during a thermal imaging inspection. Similarly, termites and others pests are illuminated bright red in thermal images.
Example #3 Visual evidence of how insulation can trap heat.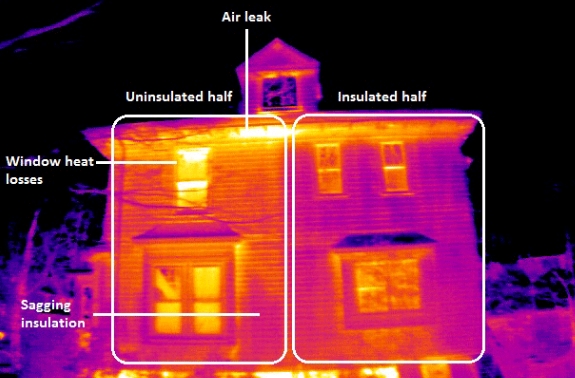 The valuable information these images provide illustrates why thermal imaging has become so popular. Thermal imaging's popularity isn't just limited to homeowners, however. Homeowners insurance companies are jumping at the opportunity as well. Thermal imaging can prevent a small loss from becoming a big loss. As a result, some carriers are now offering thermal imaging services. In fact, some high value home insurance carriers feel so strongly about thermal imaging that they are offering the service for free, especially if there are substantial fine arts collections at stake.
As a homeowner, you want to do everything in our power to keep our home safe, efficient, and comfortable; it certainly takes a multifaceted approach, but thermal imaging seems to be an increasingly important piece of the puzzle.